What to Eat?
Deciding what to order from the Greek Festival menu can be challenging for some patrons, although most already have their favorites. Still, the delicious, homemade quality of each offering makes any selection an excellent choice. Below is a partial menu of what you can expect to find at the 2023 Greek Festival.
Entrées, Salads, and Savories
Greek Dinner
Pastitsio, tiropita, spanakopita, keftedes (Greek meatballs), and Greek stewed green beans with tomato
Greek Salad
Fresh greens, tomatoes, cucumbers, and onions, topped with feta cheese and Kalamata olives and served with homemade Greek dressing
Gyro
Gyro slices served with red onions, tomato, and homemade tzatziki on pita
Lamb Platter with Orzo
Slow-roasted leg of lamb slices seasoned with olive oil, garlic, Greek spices, and lemon; dipped in au jus and served with orzo and pita
Loukaniko
Grilled, traditional Greek sausage made with leeks and seasoned with herbs and spices
Mezedes (Appetizers)
New booth along the bayou featuring four unique items selected specifically to accompany your favorite libations
Karpouzosalata – Watermelon, feta, and basil create a refreshing blend of sweet and salty flavors
Kolokithopita – Savory pie made primarily with zucchini and feta and topped with toasted sesame seeds
Melitzanosalata – Greek eggplant dip served with pita
Tiropita – Extra-large cheese filled filo triangle
Souvlaki
Grilled pork or chicken served with pita, homemade tzatziki and onions
Vegetarian Plate
Greek salad with dolmades (stuffed grape leaves) and Kalamata olives, spanakopita, tiropita, and Greek stewed green beans
The Pastry Shoppe
A HUGE assortment of traditional homemade Greek pastries including
Baklava
Cakes – Karidopita, Ouzo Cake, Ravani, and more
Cookies – Almond Jewels, Koulourakia, Kourabiedes, Stuffed Finikia, and more
Frozen Filo Items – Ready-to-Bake Almond Rolls, Galaktoboureko, and Tiropites
Pastries may be purchased at three locations.
Pasty Booth – Personally select your favorite pastries, inside the Hellenic Cultural Center
Pastry Express – Pick up pre-boxed selections of either baklava or assorted pastries, each in two sizes, inside the Hellenic Cultural Center or on the Cathedral grounds near the Entrance
Desserts
Baklava Sundae
Delicious baklava crowned with soft-serve vanilla ice cream, then sprinkled with cinnamon and walnut mixture and topped with a cherry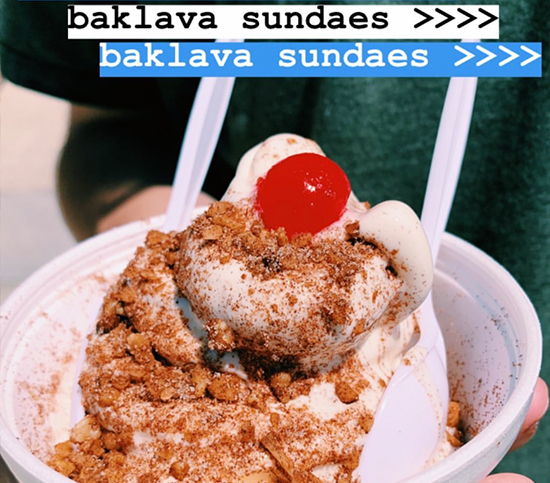 Libations
Beers
Michelob Ultra: Served ice cold on tap
Mythos: Imported Greek Lager served ice cold in a bottle. Made from select barley and hops with a rich blonde color and refreshing taste
Daiquiris
Choose from five (5) delicious daiquiri flavors that include mango, ouzo, pomegranate, strawberry, and watermelon.  Also, Ouzo Jello Shots will be available at the booth.
Imported Greek Wines
A balanced selection of traditional Greek red, white and rosé wines will be sold by the bottle and by the glass. 
Katsaros Valos Xinomavro: This particular Kinomavro is produced from a small family winery in Northern Greece. It is a ruby red with blended flavors of fresh raspberries, strawberries, red cherries, fresh tomato, and rose petals.
Tselepos Mantinia Moschofilero: Moschofilero, which hails from Arcadia in the Peloponnese, has an exceptional freshness and a crisp, clean finish.
Loukatos Mavrodaphne of Patras: A smooth, sweet full-bodied, sweet red wine made from the Mavrodaphne grape variety grown in the vineyards overlooking the Gulf of Patras in southern Greece.
Creta Olympias Isle Creta Dry Red: A mild dry red with a fruity flavor
Creta Olympias Isle Creta Dry White: A light bodied dry white wine with a floral aroma
Retsina: Greek white resinated wine with a unique flavor originated at least 2,000 years ago from the practice of sealing wine vessels
Mastiha Bar
Mastiha is a liquor served over ice, straight up, or in the refreshing Mastiha Cocktail. This unique liquor has a sweet aroma and is flavored with resin from mastic trees, which only grow on the island of Chios, Greece.
Ouzo
Popular dry Greek anise-flavored aperitif sold by the bottle or the shot
Pomegranate Iced Tea
Thirst-quenching pomegranate ice tea is blended especially for the Greek Festival New Orleans from fresh pomegranates. Delicious!
Soft Drinks & Bottled Water
Athenian Playground